Padded Socks
Our Padded Socks reduce impact and provide extra support where you need it most, while the breathable fabric wicks away moisture and prevents odor. Made with premium materials and innovative cushioning technology, these socks provide the ultimate in comfort and support.
Read more.

These socks feature additional cushioning in vital areas like the toes and arch, plus a reinforced heel for greater durability — making them essential for men and women who need some extra padding in their footwear.

Offering superior breathability, sweat-wicking capabilities, and superior stretch-retention properties, our padded socks allow you to move with ease while on the job or out enjoying life.

Whether you're clearing trails or walking the street, these soft cushioned socks will keep your feet happy all day long.

What are Padded Socks?

Padded socks are specially designed socks that provide additional cushioning and support to your feet, making your everyday activities more comfortable and enjoyable.

If you're someone who enjoys an active lifestyle, then you know how important it is to have the right gear to protect your feet from blisters, discomfort, and injury. This is where padded socks come in. They provide extra cushioning, support, and protection for your feet while running, playing sports, or just out and about.

Padded socks come in all sorts of styles, from ankle socks to crew socks. They can be made from a combination of materials such as wool, polyester yarns, synthetic fabrics, and more.

Benefits of Padded Socks

Enhanced Comfort: Padded socks are designed with extra cushioning to provide added comfort. These extra layers of protection protect feet from blisters and sore spots as well as offers extra support for athletes.
Pressure Protection: Certain activities, like running or walking, can cause pressure points that can make your feet uncomfortable. Padded socks provide a barrier between the shoe and the foot, which distributes pressure more evenly to prevent these issues.
Breathability: Good-quality padded socks are designed to be breathable and wick away sweat to keep the user's feet cool throughout the day. This helps reduce inflammation on delicate skin and increases comfort levels.
Reduced Blister Risk: With our additional padding technology, padded socks also help prevent friction between your feet and footwear. This not only protects against blister-causing rubbing but also prevents hot spot formation that could lead to injury.

Types of Padded Socks

Padded socks are a great option for active individuals who want extra cushioning and support for their feet.

These socks come in a variety of styles, such as ankle socks and crew socks, and can be made from materials like wool, synthetic fabrics, and more. They are designed with tough fibers that can withstand everyday wear and tear while also providing additional cushioning to help reduce foot fatigue.

Regardless of what type of activity you're doing, having a pair (or two) of padded socks is a must-have if you want your feet to stay comfortable throughout the day!

Ankle Socks

Practical, yet fashion-forward. Ankle socks are a comfortable staple that can be dressed up or down. They offer breathability and snugness with the perfect hint of style.

Our socks offer an extra layer of cushioning around the ankle area which helps provide added support and comfort during physical activities.

These socks are designed with a purpose in mind; each pair is carefully crafted for all-day comfort. The innovative fabric prevents odor, sweat, and blisters while furnishing lightweight support for any activity.

Seamless construction guarantees smoothness and long-lasting quality without sacrificing coziness or range of motion.

Furthermore, they come in different sizes so you can find the perfect fit for your shoe size. With ankle socks, you will experience all-day comfort while still having a fashionable look - perfect for both casual and activewear!

Crew Socks

Crew socks are the perfect combination of style and comfort for everyday wear. These socks usually reach a mid-calf length, providing extra cushioning around the ankles as well as keeping your feet dry.

They can come in a variety of materials such as wool, cotton, and synthetic fabrics. Polyester yarn is often used to provide an extra layer of cushioning and durability while still being lightweight enough to keep your feet cool.

Additionally, crew socks come in a wide range of fun colors so you can make a statement with your outfit. Whether you're looking for a pair to match your running shoes or dress shoes, crew socks have got you covered!

Enjoy all-day comfort and style with these tough yet soft performance crew socks - perfect for any occasion!

No Show Socks

No-show socks are the game-changer for modern sock wearers. They're designed to rest just below visible sight yet provide optimal comfort, while at the same time, they elevate any outfit.

These low-cut socks come in a variety of materials, including cotton, wool, and synthetic fabrics, so you can find the perfect pair to match any outfit. They have a soft cushioning that provides comfort and arch support while also preventing foot odor caused by sweat.

Additionally, these socks come in a wide range of sizes so you can find the exact fit for your shoe size.

No Show socks also feature a durable fiber combination that ensures longevity and maximum day-to-day comfort. Whether you're looking for a classic black pair, our no-show socks are sure to provide the perfect combination of style and function.

Materials Used for Padded Socks

Padded socks are made from a combination of materials, including wool, synthetic fibers, and polyester yarns. These materials are carefully chosen to provide maximum support and breathability for your feet.

Wool is an ideal choice as it wicks away moisture and keeps your feet warm, while synthetic fibers provide extra durability and strength. The polyester yarn creates a soft yet tough outer layer that helps protect against wear and tear while also allowing your feet to remain dry on even the longest days.

Padded socks come in fun colors so you can add some style to any outfit or pair of shoes. Whether you're looking for everyday wear or performance socks for running shoes, padded socks are sure to deliver the ultimate combination of comfort and protection.

Polyester Yarn

Polyester yarn is the go-to choice for socks. It's lightweight, delicate, and soft on the skin — making it a reliable option that meets all comfort requirements. Plus, it's wrinkle-resistant and easily machine-washable.

The strength of the material also ensures the stability of shape and color over time. Its moisture-wicking capability lets active feet stay dry and keeps sweat away from sensitive areas at the same time.

Despite its many benefits, polyester isn't impervious to wear and tear: no matter how resilient it is, overstretching can still cause damage to fabric or thread. That's why sock brands take production very seriously — selecting only high-end yarns of greater thickness for better durability against stretching.

So the next time you pick up those socks, know that you're handing yourself well-made material that works with your lifestyle and provides long-lasting satisfaction down to every toe!

Synthetic Fabric

Synthetic fabrics are becoming increasingly popular for their durability and performance. Synthetic fabrics, such as polyester or nylon, are a combination of multiple materials that create a durable fiber that is lightweight and breathable.

This type of fabric is ideal for creating socks because it provides soft cushioning while also being tough enough to withstand everyday wear. They also have the ability to retain shape and elasticity over time. Additionally, synthetic fabrics come in a variety of colors so you can find the perfect pair of socks to match any outfit or shoe size.

No matter the sock type, synthetic fabrics provide an unbeatable combination of comfort and durability so you can enjoy all-day comfort without having to worry about them wearing out quickly.

Frequently Asked Questions

Here are the most common questions about padded socks.

Are cushioned socks worth it?

Comfort and cushioning come hand-in-hand. Cushioned socks can give extra protection for your feet, offering greater support and reducing impact shock. So yes, we believe cushioned socks are definitely worth a try.

They are particularly beneficial for those with intense routines, who often experience pain and fatigue from activities such as running, dancing, or aggressive sports.

Cushioned socks also provide superior protection from harsh environments. Arid or frosty territories may cause havoc on our skin; these socks will keep your feet safe from extreme temperatures and rugged terrain.

The suitable care taken during the production of these items is unparalleled; giving users a level of dependable quality that lasts for seasons to come. Cushioned socks are the perfect addition to any active lifestyle.

Do cushioned socks make a difference?

Cushioned socks can make all the difference. Take long-distance running, for example. After hours on the road, your feet will thank you for investing in some extra padding between them and the asphalt.

Cushioned socks' shock-absorbing abilities protect feet from blisters, chafing, and soreness that can come with running long distances. Plus, they'll keep your feet warm so your next marathon won't leave you frozen to the core.

What are padded socks for?

Padded socks provide extra cushioning and support to the feet.

They are designed to reduce the risk of blisters, pain, and wear on the toes. For example, athletes often use padded socks to protect their feet during strenuous activities and long-distance runs.

What are the most comfortable socks made of?

The highest quality socks are crafted from natural fibers. Cotton, wool, and bamboo offer superior breathability, cushioning, and moisture-wicking ability.

Go for fabrics like merino wool if you're looking for a lightweight feel, or opt for cotton or wool-blend fabric designs which provide an extra layer of warmth and insulation.

Reinforced toes and cushioned soles offer extra protection against chafing while the ideal ribbing keeps your sock up throughout the day.

What are the healthiest socks for your feet?

Fundamental care for your feet begins with socks. Quality pairs provide essential support and comfort. They should be lightweight yet sturdy enough to endure wear and tear. Opt for breathable fabrics that wick away sweat and keep toes dry. The fit should be snug but not overly tight to ensure no friction or pinching occurs.

The most health-friendly socks also contain features like arch support, padded heels, and cushioning along the toe bed to minimize impacts from walking or running. Look for ones with anti-microbial properties to help combat bacteria buildup.

Finally, make sure the pair you purchase is well made; there should be no sign of lopsided stitches or loose threads.

What are the best socks for standing all day?

Nobody enjoys standing all day. But compression socks can help. They promote circulation and reduce swelling, giving you the stamina to make it through the day.

These socks gently hug your lower legs and feet, providing support. The sturdy fabric retains shape better than typical cotton types, ensuring a snug fit that won't sag when you need it most. Not only that, but the snugness also helps to massage the feet while in motion and promotes better blood flow throughout your body.

Do cushioned socks help with foot pain?

Yes, cushioned socks can help with foot pain. The cushioning offers extra comfort and helps reduce pressure. Additionally, they can provide support when worn with shoes, helping to evenly distribute the weight and reducing friction points.

Overall, cushioned socks are a great choice for reducing foot discomfort and providing added comfort during physical activity. They can be used while running or playing sports.

Are cushioned socks warmer?

Cushioned socks are warmer. The cushioning creates a layer of insulation, trapping heat and keeping your feet warm while you wear them. The key is to make sure they're made of materials designed to wick away moisture, so your feet stay dry even in cold temperatures.

Are bamboo socks better than cotton?

Bamboo socks have gained popularity in recent years as an eco-friendly alternative to cotton socks. Bamboo is a sustainable and renewable resource, making it a popular choice among environmentally conscious consumers. In addition, bamboo fabric is naturally moisture-wicking, anti-bacterial, and anti-fungal, which can help prevent foot odor and infection.

Compared to cotton socks, bamboo socks are generally softer and more breathable, which can make them more comfortable to wear. Bamboo fabric is also hypoallergenic, making it a great choice for those with sensitive skin or allergies.

However, it's worth noting that bamboo fabric can be more expensive than cotton, and some people may prefer the feel of cotton socks. Ultimately, the choice between bamboo and cotton socks comes down to personal preference and individual needs.
These socks are very comfortable and perfect for travel...
... since thay can be worn for up to a week and still stay fresh and clean. We wear them for all trips now and makes packing a lot easier. I've been recommending these socks to everyone!
—Fong, Redwood City, CA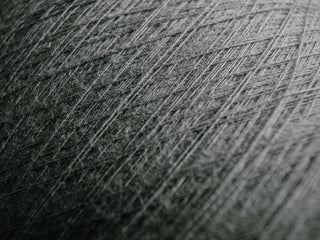 Socks that are built to last. Wash less. Save more.
Reinforced with high-strength yarn in abrasive areas, we've carefully selected fabrics that are gentle and feels soft on the skin, and blend it with materials that are strong and durable.
Our Odor Control Technology prolongs the lifetime of your socks because bacteria and laundering both break down fibers.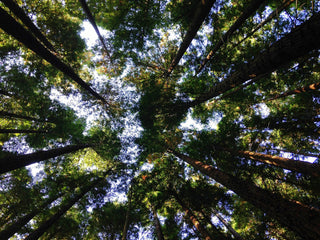 Good for your feet. Better for our environment.
Did you know? Washing and drying accounts for up to two-thirds (2/3) of the environmental impact of a garment.
Since anti-odor socks do not need to be washed as often, it significantly saves our planet from excessive water and energy use compared to owning and maintaining regular socks.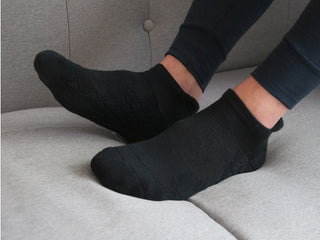 Anti-odor. Anti-bacterial. Highly breathable.
NEVERQUIT's padded socks are made to stay fresh even after multiple days of use.
Our secret? Zinc oxide infused fabrics.
Often found in skin care products like sunscreens, diapers creams, and deodorants, zinc oxide is a natural, non-toxic mineral that stops bacteria growth and eliminates odors.