Cotton Socks for Men
Elevate your sock collection with our comfortable and stylish Combed Cotton Socks for Men. Perfect for any occasion, these cotton socks are the ultimate blend of fashion and function.
Read more.

Cotton Socks for Men: The Ultimate Guide to Comfortable and Stylish Socks

Are you tired of wearing uncomfortable socks that leave your feet feeling sore and tired? Look no further than Neverquit Socks' collection of cotton socks for men. Our premium combed cotton socks are designed with your comfort in mind, providing cushioned support and reducing foot pain and fatigue.

Why Choose Cotton Socks?

Cotton socks are a popular choice for many reasons. They are soft, breathable, and absorbent, making them perfect for everyday wear. Cotton also has natural moisture-wicking properties, keeping your feet dry and comfortable throughout the day. Check out our moisture wicking socks for more options.

Premium Combed Cotton

At Neverquit Socks, we use only the highest quality premium combed cotton in our socks. Combed cotton is a superior type of cotton that has been combed to remove any impurities and short fibers, resulting in a stronger and smoother yarn. This makes our cotton socks more durable and comfortable than other cotton socks on the market.

Cushioned Support

Our cotton socks are designed with cushioned support to reduce foot pain and fatigue. The extra padding in the sole and heel of the sock provides added comfort and support, making them perfect for long days on your feet. Discover our range of cushioned socks and padded socks for even more comfort.

Stylish Designs

Our cotton socks come in a variety of stylish designs and colors, including red, green, black, white, and grey. Whether you're looking for a pop of color or a classic neutral, we have a sock for every style.

Ankle, Crew, and No Show Lengths

We offer our cotton socks in ankle, crew and no show lengths, so you can choose the perfect sock for any occasion. Our ankle socks are great for casual wear, while our crew socks provide added warmth and support. Our no show socks are perfect for wearing with sneakers or loafers.

Anti-Odor Technology

All of our socks are treated with anti-odor technology, keeping your feet fresh and odor-free all day long. Say goodbye to smelly socks and hello to fresh, comfortable feet.

Free Shipping on Orders Over $75

We offer free shipping on all orders over $75 in the US and Canada. Stock up on your favorite cotton socks and enjoy free shipping on us.

Our Happiness Guarantee

At Neverquit Socks, we stand behind our products. If you don't love your socks, we'll replace your order or give you a full refund. We want you to be completely satisfied with your purchase.

Shop the Collection

Browse our collection of cotton socks for men and find the perfect pair for you. With our premium combed cotton, cushioned support, and stylish designs, you won't want to wear any other socks. Order now and experience the comfort and quality of Neverquit Socks.

Perfect for Sensitive Skin and All-Day Comfort

Our organic cotton socks are gentle on sensitive skin, reducing irritation and discomfort. With their soft, breathable material, they are perfect for all-day wear, providing comfort and support for your feet.

Feet Cool and Moisture-Wicking Properties

Our cotton socks are designed to keep your feet cool and fresh, thanks to their moisture-wicking properties. This helps to prevent the buildup of sweat, allowing your feet to breathe and stay dry throughout the day.

Great Value and Quality

With affordable prices and high-quality materials, our cotton socks are the perfect choice for anyone seeking comfort and style without breaking the bank. Choose from our 6-pair packs or individual pairs to find the perfect fit for your needs.

Discover the Perfect Pair of Cotton Socks Today

With a wide variety of styles, colors, and brands available, you're sure to find the perfect pair of cotton socks at Neverquit Socks. Browse our collection today and experience the ultimate in comfort, style, and quality. Your feet will thank you!
These socks are very comfortable and perfect for travel...
... since thay can be worn for up to a week and still stay fresh and clean. We wear them for all trips now and makes packing a lot easier. I've been recommending these socks to everyone!
—Fong, Redwood City, CA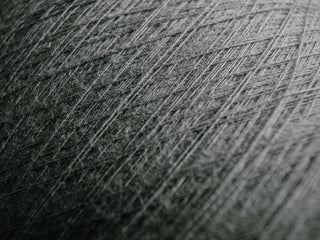 Socks that are built to last. Wash less. Save more.
Reinforced with high-strength yarn in abrasive areas, we've carefully selected fabrics that are gentle and feels soft on the skin, and blend it with materials that are strong and durable.
Our Odor Control Technology prolongs the lifetime of your socks because bacteria and laundering both break down fibers.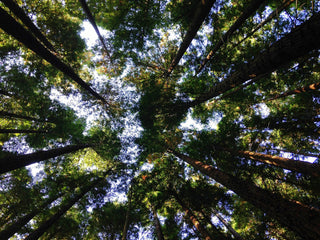 Good for your feet. Better for our environment.
Did you know? Washing and drying accounts for up to two-thirds (2/3) of the environmental impact of a garment.
Since anti-odor socks do not need to be washed as often, it significantly saves our planet from excessive water and energy use compared to owning and maintaining regular socks.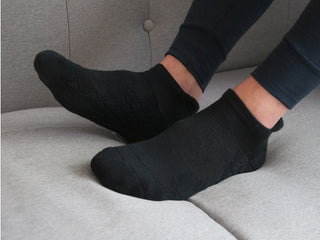 Anti-odor. Anti-bacterial. Highly breathable.
NEVERQUIT's padded socks are made to stay fresh even after multiple days of use.
Our secret? Zinc oxide infused fabrics.
Often found in skin care products like sunscreens, diapers creams, and deodorants, zinc oxide is a natural, non-toxic mineral that stops bacteria growth and eliminates odors.