Anti Odor Socks
Why settle for socks that leave your feet smelling less than fresh? Keep your feet happy and odor-free with our Anti-Odor Socks. Made with premium materials and innovative technology, these socks are designed to keep your feet smelling great all day long.
Read more.

Anti Odor Socks: The Ultimate Solution for Foot Odor and Smelly Feet

Are you tired of stinky feet and the rank smell of sweaty socks ruining your day? Do you dread taking off your shoes in public because of the unwanted smells? Look no further than Neverquit Socks' Anti Odor Socks collection. Our socks, ranging from hiking socks to athletic socks, are designed to keep your feet fresh, your feet dry and odor-free all day long.

Say Goodbye to Foot Odor and Smelly Socks

Foot odor, or the nasty foot odors, is a common problem that affects many people. It is caused by odor-causing bacteria that thrive in warm, moist environments, such as damp socks and shoes. Traditional regular cotton socks or synthetic materials can exacerbate the problem by trapping moisture and bacteria. That's where our Anti Odor Socks come in, including our moisture-wicking dress socks and odor-resistant socks.

Premium Materials for Maximum Comfort and Breathability

Our Anti Odor Socks are made with a breathable fabric blend that includes premium materials designed to keep your feet sweat-free and comfortable. We use merino wool, which makes comfortable socks, and premium combed cotton, which are both breathable and moisture-wicking. This means that your feet will stay dry and cool, even on the hottest days or during the sweaty-feet season. We offer everything from well-cushioned Merino socks to nylon-yarn socks.

Cushioned for Maximum Support and Extra Padding

Our socks are not only designed to keep your feet fresh but also to reduce pain and fatigue. We offer cushioned socks, including the stylish ankle socks and no-show socks, which provide maximum support, all-around comfort, and extra padding. Our socks are perfect for athletes, hikers, and anyone who spends a lot of time on their feet, such as outdoors people or those wearing heavy work boots.

Stylish and Versatile

Our Anti Odor Socks come in a variety of colors and lengths, so you can find the perfect pair for any occasion. We offer ankle and crew length socks in grey merino wool, and premium combed cotton in red, green, black, white, and grey. We also offer no-show socks and activity-specific socks in black, which are perfect for wearing with sneakers or loafers.

Our Happiness Guarantee

At Neverquit Socks, we stand behind our products. That's why we offer a Happiness Guarantee. If you don't love your pair of socks, we'll replace your order or give you a full refund. We also offer free shipping on orders over $75 in the US and Canada.

Invest in Your Foot Health and Skin Care Today

Investing in a pair of Anti Odor Socks from Neverquit Socks is an investment in your foot health and skin care. Our socks are designed to keep your feet fresh, your feet dry, and comfortable, while also reducing pain and fatigue. With our Happiness Guarantee and free shipping on orders over $75, there's no reason not to try them out. Order your pair today and experience the difference in smell for yourself.
These socks are very comfortable and perfect for travel...
... since thay can be worn for up to a week and still stay fresh and clean. We wear them for all trips now and makes packing a lot easier. I've been recommending these socks to everyone!
—Fong, Redwood City, CA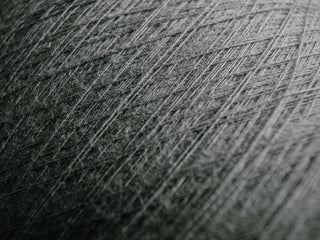 Socks that are built to last. Wash less. Save more.
Reinforced with high-strength yarn in abrasive areas, we've carefully selected fabrics that are gentle and feels soft on the skin, and blend it with materials that are strong and durable.
Our Odor Control Technology prolongs the lifetime of your socks because bacteria and laundering both break down fibers.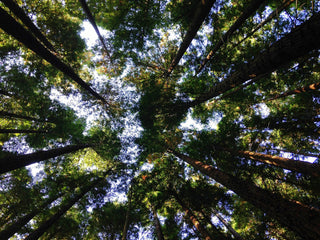 Good for your feet. Better for our environment.
Did you know? Washing and drying accounts for up to two-thirds (2/3) of the environmental impact of a garment.
Since anti-odor socks do not need to be washed as often, it significantly saves our planet from excessive water and energy use compared to owning and maintaining regular socks.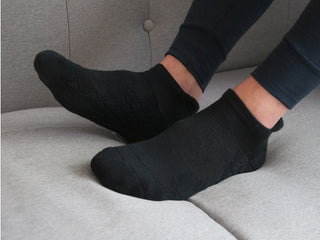 Anti-odor. Anti-bacterial. Highly breathable.
NEVERQUIT's padded socks are made to stay fresh even after multiple days of use.
Our secret? Zinc oxide infused fabrics.
Often found in skin care products like sunscreens, diapers creams, and deodorants, zinc oxide is a natural, non-toxic mineral that stops bacteria growth and eliminates odors.